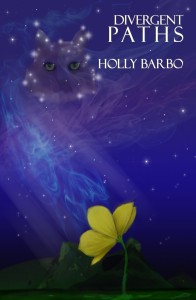 We're putting together a blog tour for Divergent Paths by Holly Barbo. The blog tour will run from April 1 — April 14. If you want to help host, please be sure to fill out the form below! We're seeking anyone interested in hosting reviews, guest posts, interviews, book spotlights, and giveaways!
Here's a quick blurb about the book: A virulent disease sweeps through the Sawblen Province. The source is unknown. As hundreds fall victim, the healers race to contain it and find a cure before it engulfs the realm, but a would-be healer complicates the situation by concocting dangerous drugs.
While the officials are distracted, a counterfeiter takes advantage of the events. Credentials and money are faked, putting several lives in peril and resulting in deaths.
The Great One's council and sage population hurry to track down the sources of the trouble and right the multiple crises before anyone else falls prey to the events. Rare natives of the planet have important information to impart if the sages can decipher their cryptic message.