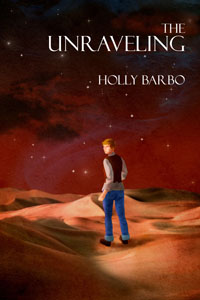 The Unraveling by Holly Barbo will be going on tour this fall from September 8 — September 19. We are skipping weekends at the moment, but if we get enough participants and/or bloggers interested, we will use weekends or extend the dates. The Unraveling is the third book in the Sage Seed Chronicle series but it's the first book of the Erin story arc and can be read as a stand-alone. It's a light fantasy/science fiction novel that can be enjoyed by readers of all ages.
Blurb:
Erin's parents are murdered and she can sense that same malevolent energy hunting her down. With little time to grieve, Erin is forced into hiding and discovers an unusual ability she's never had before — she can talk to animals!
With the help of her new found animal companions, she eludes the killer. Disguising herself as a boy, she joins the Autumn Gathering and is able to concentrate on the questions she needs to solve: Who killed her parents? Why are they trying to kill her, too?
Quakes, storms, and murders begin plaguing Erin's world and she soon realizes that they're all connected. The fabric of her world is just beginning to unravel…