You might have noticed that things have slowed down a bit here at the press. Every member has been a bit busy and I know a couple of us are sleep-deprived. One of us is now a new citizen of Canada. One of us has left. And one of us got a new job. So yes, we've been busy and I think we all needed to take a month or so away and recharge. But we're getting back and we're ready to give you more stories! And we want to give you more of us!
For those of you wondering what happened to the podcast, I prematurely stopped it. I felt the format was a bit clunky. I'm taking the time right now to properly plan out episode content. When the podcast returns, it'll be re-named, re-shaped, and we'll have spiffy new music and a new intro. More on that later when the time comes.
For those of you who voted on our last poll which was a poll to determine the name of our upcoming street team: the winning name was Cranies. Our street team concept still has some kinks that need to be worked out, but we're hoping to unveil that soon as well.
If you go and navigate through the website, you might notice that a lot of our book pages are down at the moment. We are aware of it. We're ever so slowly moving things around to get things set up for our new store platform. If everything goes well, all of that will be up just in time for the holiday season.
NOW onto some exciting story news! Holly Barbo is getting ready to release a collection of short stories called Tendrils. There are a total of 14 stories in the collection, including one flash fiction. I'm so proud to say that the collection will be released within a couple of weeks. 4 out of 14 of the stories have won in short story contests, one of which has won first place!
Here's the official blurb:
Stories come from any number of places. One could start from a memory, a photo in a magazine or from pondering a news item and wondering, "What if?"
This collection arose from that sort of random stimuli. Some are pure imagination of science fiction or fantasy. Others, though developed from random historical facts or the disturbing news stories of war-torn regions.
Each story has coalesced from "What if" to "What is."
Sound exciting? Want to make sure you're notified of the release on the day it's available? Be sure to sign up for our newsletter over in the sidebar.
And here's the book cover that JC Clarke created for us: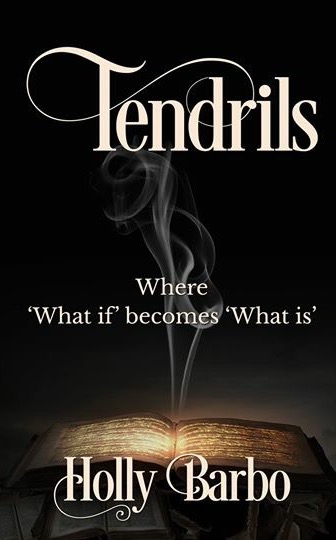 What do you think of the cover? Doesn't the glowing letters look cool? Love short stories? Because we're going to have yet another short story collection released after Tendrils, so stay tuned!