Tendrils
by Holly Barbo
ISBN: 978-0692521939
Pages: 284
Release Date: September 1, 2015
Age Category: General audience
Genre: Science fiction, fantasy, contemporary, thriller, historical fiction
Cover Designer: J.C. Clarke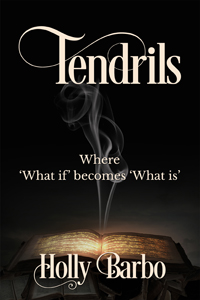 14 Short Stories. 4 Award-Winning!
Stories come from any number of places. One could start from a memory, a photo in a magazine or from pondering a news item and wondering, "What if?"
This collection arose from that sort of random stimuli. Some are pure imagination of science fiction or fantasy. Others, though, developed from random historical facts or the disturbing news stories of war-torn regions.
Each of the 14 short stories in this collection have coalesced from "what if" to "what is."