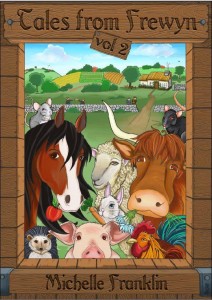 It's here! TALES FROM FREWYN: VOLUME 2 is finally released!
Official blurb:
Featuring appearances from thirty of the Haanta series' most beloved characters, Tales from Frewyn Volume Two pays tribute to the animals that inhabit the world of the Two Continents. From Mr Cluck, the rooster that refuses to crow, to Tuatha, the stubborn Westren longhorn, the series boasts a multitude of strange and wonderful creatures, including traveling mice, mischievous mares, vicious rats, and eloquent gulls. Join everyone in Khantara Ghaasta, the Diras Castle keep, and the far reaches of Westren and Haantaledhran in honouring their feathered companions and furred friends with this collection of their most daring and delightful episodes.
You can grab your copy at the following places:
Amazon | Amazon (Variant Cover)
Smashwords | Smashwords (Variant Cover)
Our Store (Both covers)
The paperback version is slated for a release next week, but might get pushed back to November 19 if there are any sort of complications. The paperback version will be combining all stories from volumes 1 and 2 of Tales from Frewyn. Bonus material will also be included. You can pre-order your book over at our store today.
Blog Tour Information
TALES FROM FREWYN: VOLUME 2 will be going on tour in December. If you'd like to be a host and help promote the latest collection of short stories from the Haanta series, do be sure to sign up using our form.