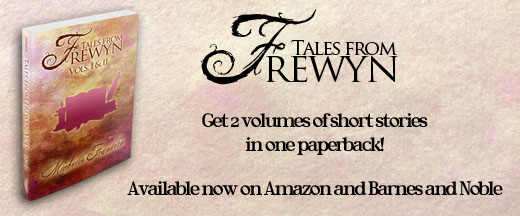 TALES FROM FREWYN: VOLUMES 1 & 2 is now available!
This paperback collection combines all the stories featured in both volumes of TALES FROM FREWYN and includes new images and a who's who section.
Volume 1:
The Haanta Series is the longest, ongoing, online romantic fantasy series. Thousands of readers visit the world of the Two Continents to enjoy the daily short stories featuring all their favorite characters from the Haanta Series novels. In between the business of the books, the commander, Rautu, Otenohi, Unghaahi, Leraa, Kai Linaa and Alasdair enjoy some time together in Diras Castle, but as the stories portray, mischief lies in every corner of the keep where spiders, chocolate pies, petulant giants and grouchy cooks abound.
Volume 2:
Featuring appearances from thirty of the Haanta series' most beloved characters, Tales from Frewyn Volume Two pays tribute to the animals that inhabit the world of the Two Continents. From Mr Cluck, the rooster that refuses to crow, to Tuatha, the stubborn Westren longhorn, the series boasts a multitude of strange and wonderful creatures, including traveling mice, mischievous mares, vicious rats, and eloquent gulls. Join everyone in Khantara Ghaasta, the Diras Castle keep, and the far reaches of Westren and Haantaledhran in honouring their feathered companions and furred friends with this collection of their most daring and delightful episodes.
Purchase today at Amazon and Barnes and Noble!