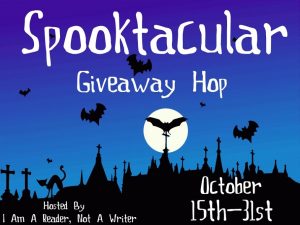 It's that time of year again! The Spooktacular Giveaway Hop is underway and we at the press have gathered up some goodies to give to one lucky winner. Though only one of our books deal with ghosts and spirits, we think any book lover will enjoy the swag we've put together. There's plenty of bookmarks to keep your place, prints, and a fun one-page comic spin-off from our upcoming publication Amanda Moonstone and the Missing Prince. If you enjoy short stories, we're giving away one copy each of A Sweet, Little Dream by Morgan Straughan Comnick and our first press anthology, Recollection of Shared Days: Stories of Celebration, which happens to include a Halloween story by Morgan. And if that's not enough, we're also tossing in an audiobook copy of The Founders by Holly Barbo!
Basic things to know about the giveaway:
This giveaway is open INTERNATIONALLY.
You must be 18 years or older to enter. If you're younger, please have your parent sign up for you.
This giveaway will end on October 31. We'll choose a winner on November 1. The winner's name will show up on the widget and we'll make an announcement about it on Twitter and Facebook.
All other legal info can be viewed by clicking "Terms and Conditions" on the widget.
Hop and Find Other Giveaways!