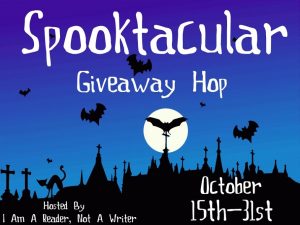 I feel like summer 2015 has lasted forever. Which I guess was needed since the winter season of 2013-2014 lasted FOREVER (thanks, Frozen). But autumn is finally upon us! As I'm writing this, it's finally cold enough to justify me wrapping up in a robe and enjoying a cup of hot cocoa as I put this together. Don't believe me? There is a picture of my hot cocoa on our Instagram feed. And yes. I have a Disney princess mug that's usually designated for tea because the mug that's usually designated for hot cocoa was on a higher shelf and I didn't feel like reaching for it. And no, there is no picture of me all snuggly and warm in my robe, so you'll just have to take my word for it.
Autumn also marks the start of our end of the year giveaways! For those of you who don't know: every Halloween, we like to participate in the Spooktacular giveaway hop and give something awesome away. We gave a ton of stuff away last year, but this year, we've downsized. We're all a bit busy and Halloween crept up on us this time (in our defense, it was a long summer).
What in the world are we giving away THIS year? Just a $10 Amazon gift card or PayPal cash. Your choice. And some bookmarks. And some ebooks to keep you preoccupied. And CANDY. Because I had a light bulb moment and realized this is a HALLOWEEN giveaway. Who doesn't want to win some candy? Saves you a trip from knocking on strangers' doors.
Basic things to know about the giveaway:
This giveaway is open INTERNATIONALLY.
You must be 18 years or older to enter. If you're younger, please have your parent sign up for you.
This giveaway will end on October 31. We'll choose a winner on November 1. The winner's name will show up on the widget and we'll make an announcement about it on Twitter and Facebook.
All other legal info can be viewed by clicking "Terms and Conditions" on the widget.
Hop and Find Other Giveaways!